This post may contain affiliate links. I receive a small commission if you choose to purchase through the links at no additional cost to you.
It's official, last night K and I went indoor rock climbing at a local spot, Rock Sport Reno. I have been rock climbing a few years back so I needed a refresher on what to do. It was K's first time and boy was he excited and nervous! The sweet girl that worked there was so kind and patient with the both of us that she definitely made our experience there. K was learning the ropes and I was trying to be patient with him as well.
There were so many people there, but luckily they came in spurts so we weren't rushed at all. It was like all the adrenaline was flowing in my body to be as good as the other climbers. The first couple of walls we tried were a little challenging at first (especially because I am scared of HEIGHTS, yikes!) but by the end of the night I felt like I went from Level 0 to Level 1–oh and K thought so too!
The best part is, we both made it to the top of the wall

(**this is where I panicked a little bit inside like I was going to die, because I was nervous K couldn't hold me and that the rope might just snap**)

. But don't worry, I am still in one piece and K was a champ! He did so well and I was proud of both of us.
I am also linking up with Miche@Buttons and Birdcages for Link Up The Love Tuesday!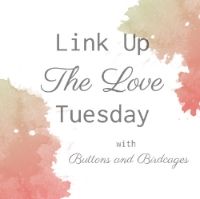 The sweet girl that helped us at Rock Sport Reno, you are seriously a gem, and I loved how patient you were with us. You made our experience 10x better and we will definitely be coming back to visit, I wish I got your name!
Miche @ Buttons and Birdcages, reading your blog every day inspires me to continue my blog and your "Good News of the Day" puts a smile on my face because there is good in this crazy world!
K– you seriously light up my life each and every day, never stop being YOU. xo
I saw a handful of mommas at Costco yesterday each with their children, loving and caring for them and they all looked absolutely gorgeous with flawless style. Gosh, I want to be them when I have kiddos.